'Appealing Design' taken literally.
We believe that corporate design can - and must - explain the story behind the brand. The more clearly the mission and vision is defined in advance, the more straightforward it is to represent the essence of the brand and translate this into visuals.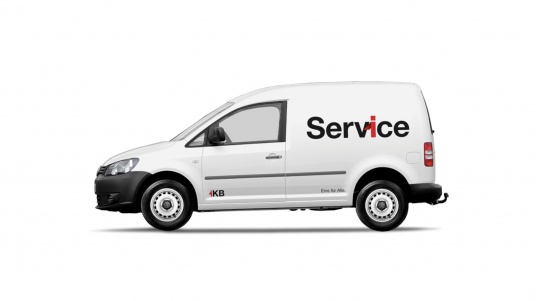 iKB:
The Innsbruck municipal enterprises (Kommunalbetriebe) provide energy, water, district heating and waste treatment, along with almost the entire infrastructure - all from a single source.
The IKB therefore makes life in Tyrol easier, which has turned it into the clear No.1 in Innsbruck - the small trick of fusing i and 1 conveys this via the logo and makes the communication just as unique as the product.
(for more see IKB case study)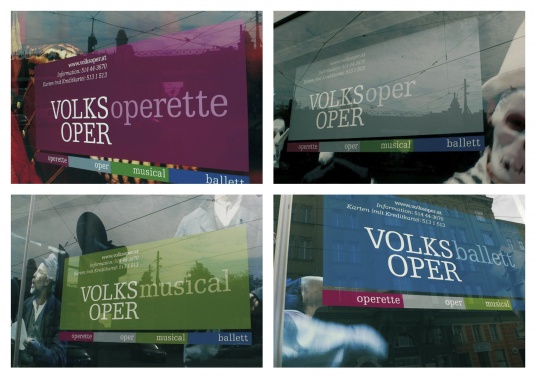 Volksoper Vienna:
The Volksoper Vienna is the most versatile music theatre of Austria. To put this coloured variety 'on stage', we turned the four genres - opera, operetta, musical and ballet into the major columns of the corporate design.
(for more see Volksoper Vienna case study)
Congress Culture Bregenz:
Bregenz Congress Culture stages events - with expertise and creativity - and above all with great empathy for what customers need. The design sums this up precisely - two slashes represent the way Congress Culture supports and advises its clients - the logo even encompasses the corporate colours of each customer and demonstrates how seriously their needs are incorporated.
(for more see IKB case study)
WOM:
If you want to turn the Chilean mobile communications market upside down, a name still readable after this move is a real capital. We tuned the existing logo to the point and confidently put it in the centre: Now everything else is revolving around the brand and the brand promise 'Twist your expectations!'.
(for more see WOM case study)
indoors
We do not want to miss GPS navigation outdoors anymore. indoo.rs finally offers orientation and information within buildings. And this is not only practical to use, but also very simple to depict.
(for more see indoors case study)
Lounge FM:
Lounge FM quite simply stands for relaxation and we were able to translate this aura of the brand 1:1 in the design and communication approach. Lounge FM spreads peace and relaxation in a hectic advertising environment and even the branding can be much more relaxed thanks to a gentle, calming wave.
(for more see Lounge FM case study)
Tonio:
Tonio enables radio broadcasters to send information via tones (sounds). We did exactly the same thing visually and brought together the common symbols for sound and information. This explains the product at a single glance.
(for more see Tonio case study)
Cell C:
We repositioned this South African telecoms company by opting for an honest brand with a lot of local colour and even more national pride. The design plays the role of a copyright sign and shows how Cell C celebrates the country and the people as one - also embracing responsibility.
(for more see Cell C case study)
Pro Corpore :
Pro Corpore brings together three institutes under a single roof. We chose a visual representation for the variety of this state-of-the-art beauty, workout and therapy centre based on the ingenious circuit training whose success lies in repeating each circuit station three times.
(for more see Pro Corpore case study)
identity Trust Management:
identity.TM verifies identities - in a safer, faster and easier way than competitors do. And the logo reflects this brand-story one-to-one: it is also safely, quickly and easily 'dentified'.
(for more see our identity case study)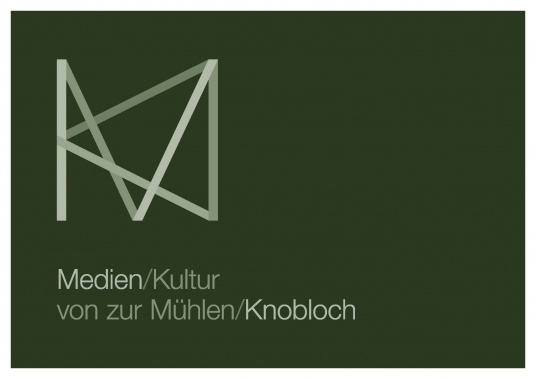 Medien/Kultur (media/culture)
Media and Culture do not have much in common at first sight. Yet they belong together and complement each other. Since the initials of both advisers for media- and cultural-enterprises, von zur Mühlen and Knobloch, underline the cooperation of M and K once more, we integrate and combine the target-groups, branches and major players in a clear visual.
Energy Krieau:
For infinitely renewable energy there is a very logical visual representation. 'Naturally' such a product is of green colour and the brand itself deals with the given resources creatively and flexibly, too.
(for more see Energy Krieau case study)
WSE:
The Viennese Location Development promotes sustainable city development projects - and thus it provides for healthy growth-rates. This fact, illustrated by three 'growing' letters, can be understood immediately.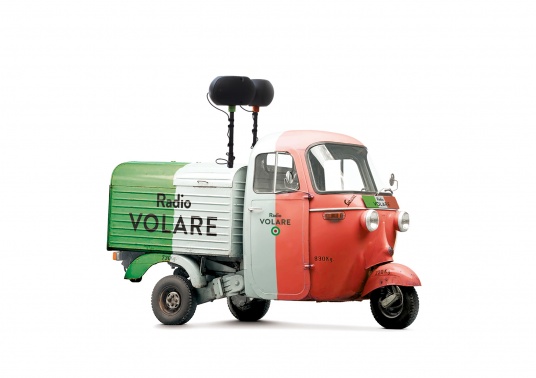 Radio Volare
We did not merely want to stage the infamous Dolce Vita and to take the target group to beloved Italy. We hat a little time travel to Mastroiani, Laureen and Celentano in mind, the Vespa Primavera included. Naturalmente in mint.
(for more see our Volare case study)
Nodyssee
The social aid fund Nodyssee fights illness and poverty and the indifferent attitude of our society towards socially disadvantaged. Crossing out does not remove social injustices, of course, but it makes them visual and raises awareness.
(for more see Nodyssee case study)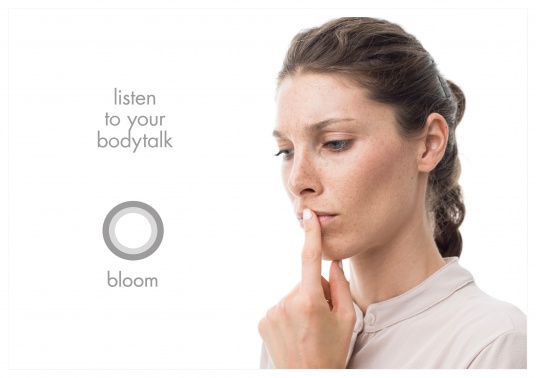 bloom
bloom, the unique small laboratory for home use, wanted to draw attention with a memorable explanation. With the invitation 'Listen to your Bodytalk' we introduced the method and the consumer benefit to various user groups: from super-fit professional athletes to seriously ill patients. Thanks to bloom all of them can appreciate a better understanding of their own bodies. Body and mind could also be reconciled optically by the two characteristic O's.
Bildünger
Education is the basis of a functioning society. The Austrian school system has been lying fallow for decades. New ideas and concepts are the fields that the Bildünger initiative ploughs, cultivates and tills. Name and design convey school at first glance. They do so with a wink and always reap a smile from teachers and learners.